Before I even dive into this week's recipe of homemade granola, I just want to mention that I was never a fan of it in any shape, way, or form.  I simply didn't care for it. Well that all changed when a colleague of mind, Emily, introduced me to her version of granola. For 4 straight years she would whip up a batch for our entire team during the winter holidays, ensuring each one was packaged with love and care.  And for 4 straight years I would finish mine all up by lunch time :P. I'm telling you it was seriously that delicious!
Fast forward to my first year back living in Texas during winter break. I started to crave Emily's signature granola and just knew I had to reach out and ask for the recipe. I think she was sensing my obsession (or desperation) with her granola and sent me her recipe that same day. Guys, you're about to witness TADA! COOKING recreate this masterpiece!!
We hope you all enjoy this homemade granola recipe as much as we did making it! Trust me when I say it's super kid-friendly and your little ones will get a kick out of measuring, pouring, and mixing up all the ingredients.  The only challenging part is gathering all the ingredients, but most of everything is in the same aisle if you go to Trader Joe's.
Unfortunately Emily wasn't able to make it to our filming, but her recipe was on point and brought back so many wonderful memories for me :). THANK YOU EBB!!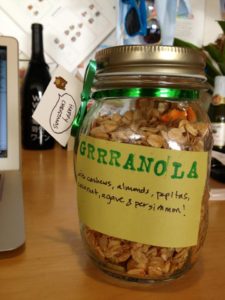 What you'll need:
– 2 Cups rolled oats (not instant)
– 1 Cup raw cashews
– 1/2 Cup raw slice almonds
– 1/2 Cup of raw pepitas (pumpkin seeds)
– 1/4 Cup chia seeds
– 1/2 Cup of shredded coconut
– 1 cup of dried fruit (any mix – we used cherries and cranberries)
– 1/4 Cup grade seed oil (can use any oil, except olive oil)
– 1/2 Cup of honey or agave
Instructions:
(1) Mix the oats, nuts, and grains in a large bowl
(2) Pour oil and honey into the bowl and mix evenly
(3) Pour mix into a baking pan lined with parchment or foil
(4) Bake at 300 degrees for 30 minutes **TURNING IT WITH A SPATULA EVERY 10 MINUTES**
(5) Once it cools, toss and mix in the dried fruit!
Don't forget to share your creations with your friends and with us here at TADA! Cooking :). Send us a photo or hashtag it at #tadacooking. I know the junior chefs would love to see it! Good Luck!