It's Super Bowl Sunday and boy do the kids have another kid-friendly recipe to share with you! It's fresh, healthy, and incredibly easy to make…it's PICO DE GALLO!!  Ever since my New Year's Resolutions post last month, I have been 80% successful at pico de gallo over my usual comfort (junk) food.
The TADA! COOKING crew decided to have a little fun with this week's cooking episode. We chose to dance to Lady Gaga's song "Poker Face" since she's the half time performer and had the kids dress up like football players. Honestly, I'm not sure if they had more fun making the recipe or completely trashing my kitchen! Either way, it was a fun shoot 🙂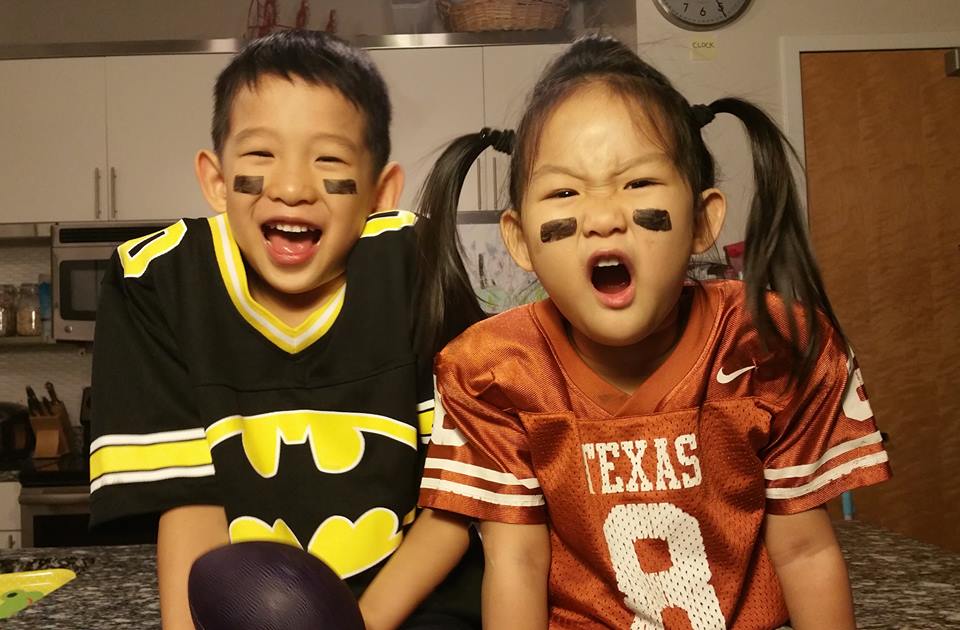 Whether you whip one up for today's Super Bowl game, a rainy day, or if you just want to feel less guilty about midnight snacking, we hope you all enjoy the recipe! Kids will also enjoy it because it's tasty, colorful, and duh, it involves CHIPS!  It's also interesting to watch the little ones customize their own dipping bowl to their personal taste.
Don't forget to share your creations with us here at TADA! Cooking. I know the junior chefs would love to see your version 🙂 Good luck!
What you'll need:
– 3 Garlic cloves
– 4 Diced roma tomatoes (I would recommend removing the seeds)
– 1 Teaspoon of salt
– 1 Diced red onion
– 1/2 Bunch of cilantro
– 1 Large lime
– Chips
– Avocado (optional)
– Hot peppers (mandatory  optional)
Instructions:
(1) Prep and chop ingredients in advance if possible
(2) Combine diced tomatoes and onions in a bowl
(3) Squeeze lime and pour 1 teaspoon of salt in the bowl (mix afterwards)
(4) Put minced garlic + chopped up cilantro in the bowl
(5) Mix well and let it sit for 10 minutes
(6) Grab a chip and scoop in!