It's a lie. No it's an illusion. Heck, it's the wedding dress shimmy!
Last week I shared a photo of the kids and me celebrating my 10 year anniversary. Although I expected congratulatory comments, I was surprised by the amount of praises I received for "fitting" into my wedding dress and wanted to set the record straight. MY WEDDING DRESS WAS UNZIPPED (not by my choice) AND NOT EASY TO SLIP INTO!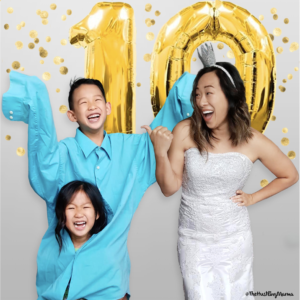 In an effort to prove to you that I am also human and a person who enjoys food, I've chosen to share a behind-the-scenes video of me struggling to "fit" into my wedding dress. Ladies, the struggle is real and in fact should have a name for it. I think I'll call it "THE WEDDING DRESS SHIMMY" and it really should be trending across the interwebs!
Shout out to my kids for trying their best to squeeze mommy into her wedding dress. They are the real heroes here haha That is all. I am human just like you. Good day people!
Keeping it real…like really real,
THM