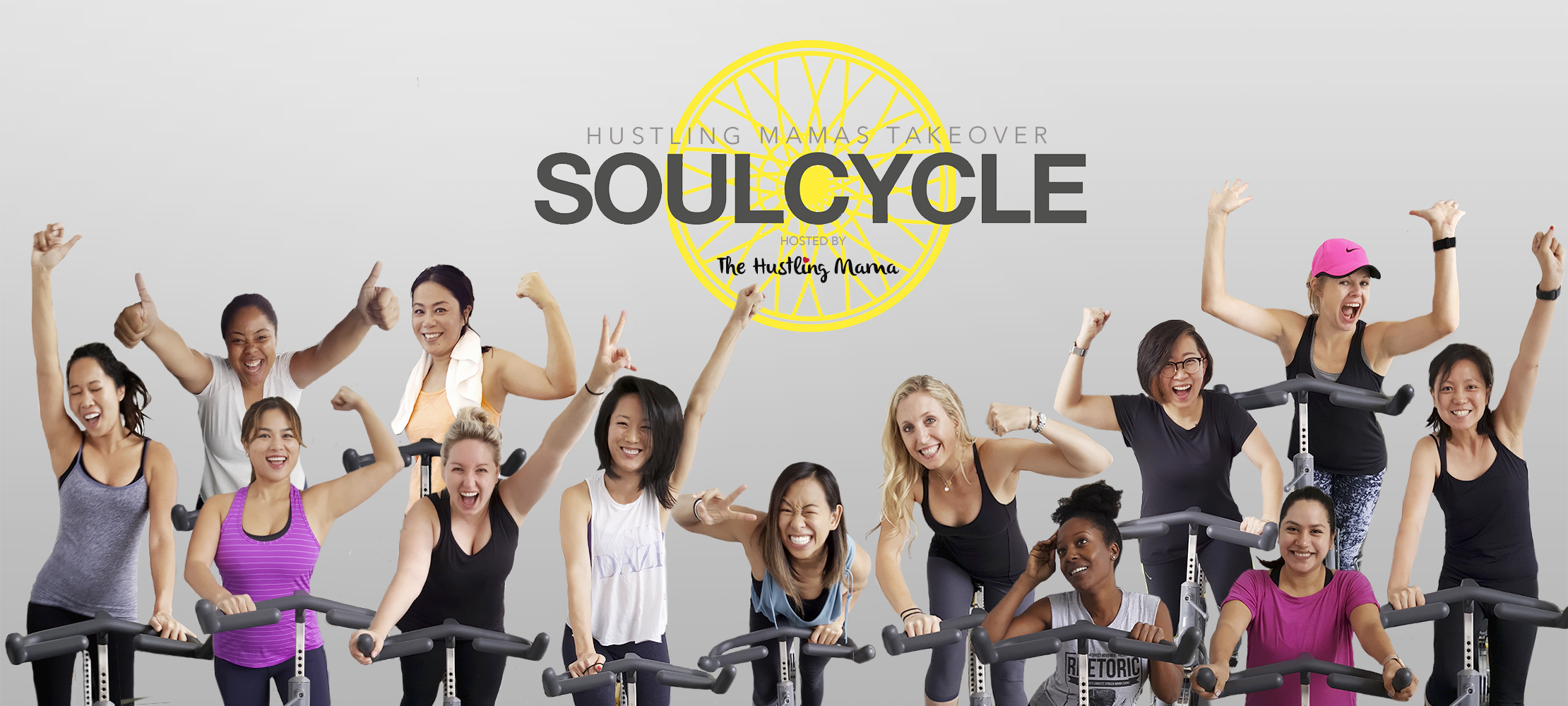 We came. We cycled. We conquered. And most importantly, we escaped all mom duties for a solid 45 minutes. Woohoo!
So happy to have teamed up with SoulCycle to kick off my self care journey and to spread the message that self care shouldn't be neglected.  Together we hosted a Mama Empowerment spin class where 14 deserving mamas were able to recharge their mind, body, and hopefully a lot of soul! I wish you all could have seen the look of excitement and relief the mamas had on their faces as they entered the lobby. It was as if they couldn't believe they had actually made it to class and was mentally prepared for the inevitable "family emergency" to ruin their plans. Thank goodness it didn't!
Shout out to the SoulCycle staff in DTLA for being so friendly and helpful to our mamas group. Over 90% of us were new to SoulCycle and really appreciated the team showing us around and getting us situated. With that being said, I'd like to present…
11 THOUGHTS MY MAMAS PROBABLY HAD DURING THEIR FIRST SOULCYCLE EXPERIENCE
1. Admiring SoulCycle's decor and ambiance
"Am I at a spa? Everything is so clean, white, and smells so good! Do I really need to head back to the kids after class?"
2. Wanting but also not wanting to take photos for Instagam
"Must.Take.Photos. Or else it didn't happen, right? Oh wait, Rosie is already doing it. Sweet!"
3. Seeing young people from the class before walk around showing off their midriffs
"Oh yeah? Wait until you have kids…"
4. Upon entering the dark studio room
"What did I get myself into…"
5. Noticing everyone in the room adjusting their bikes 
"Uh oh. When did these bikes get so complicated? Help please!"
6. Class begins and the music fills the entire room
"Ahhhh so THAT's why there are earplugs by the front desk. Doh, should have grabbed a pair!"
7. Notices everyone moving to the beat while you're trying your hardest to keep up
"How is everyone spinning their legs so fast?!?! Gahhh!"
8. Instructor keeps telling the class to turn their resistance knob up
"She's crazy! I just did! Well the jokes on her because I just turned it wayyyyy down"
9. Throughout the entire class
"OMG WHAT TIME IS IT?! Are we almost near the end? I've never sweated so much my entire life!"
10. Struggling to unclip your shoes from the pedals during cool down period
"How the hell do I get my shoes off the pedals?!" <annoyed at all the clicking sounds of everyone else's shoes coming off>
11. Exits SoulCycle
"Someone is gonna sleep good tonight"
Okay in all seriousness, here's what my hustling mamas really had to say about their SoulCycle experience!
"SoulCycle is no joke. It tests your limits, your mental toughness and your ability to persevere! This is no different than being a mom. Anything is possible as long as you focus, work hard, and hustle toward your goal. Way to go mamas!" – Jessica
"Skeptical as heck before I went, but I'm a believer now in the craze as long as I use earplugs next time! Bonus points for the glorious shower without my child trying to beat down the door…" – Jenny
"My butt hurts but worth it since Thanksgiving is coming!" – Anna
"I really enjoyed this event and am going to highly recommend it to other moms moving forward. This experience was quite empowering! There was a moment during the SoulCycle that I almost felt like crying. I think all moms need to take time off for themselves, to learn, relax, and connect with others. Thanks to The Hustling Mama, who's platform and community provides such an opportunity for us! I really appreciate what you do and the example you set for other mamas. Thanks Rosie!" – Lifang
"I really didn't know what to expect that morning. I had taken a cycling class at 24 hour fitness before, but SoulCycle was very different. The music was awesome and the instructor was so good! I love her energy and enthusiasm. She was able to keep me engaged the whole time. I can totally see myself going regularly." – Sherril
"I loved it! It was like a dance party, but on a bike! Totally going to do this again!" – Maria (mother of 2 puppies)
"It was so nice to zone out in class and just cycle my heart out with the other moms. It really was like working out in the club, a place I haven't stepped into in years!" – Ebony
There's something wonderful about bringing together a community that allows for connection, inspiration, and positivity. Thanks to all the mamas who joined me on this extraordinary experience. I hope you continue to make time for yourselves and realize there's nothing wrong with that!
Cheers,
THM